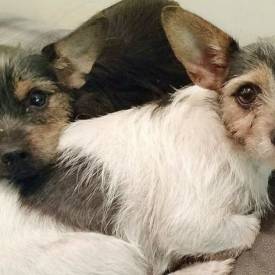 SALLY and HARRY
Adoptable
Small
Spayed/Neutered
Up-to-date with routine shots
housetrained
Meet 'Harry & Sally'… our latest little bonded pair needing a forever home. They will only be adopted together as a pair… we will not separate them!
Sally is the white pup… she is probably 1-1/2 years old. Harry is the black and tan pup… he still has lots of puppy in him, so we feel he's less than a year old. They are both small, weighing around 9-lbs.
Harry & Sally are happy little pups who love wrestling with each other, playing with squeaky toys and chewing on antlers. When tired, they always snuggle right next to each other. They have exceptionally sweet temperaments and do well with everybody… adults, children, other dogs, Harry is more outgoing than Sally… she is a little shy at first.
Harry & Sally are crate trained and housetrained… but being tiny dogs, they need to be able to go out to 'potty' on a regular schedule during the day.
Harry & Sally's new home should have a fenced yard since they're young and very active, and need to be able to run and play safely..
Harry & Sally are a healthy little pups… Harry is neutered and Sally is spayed. .They are microchipped, dewormed, current on Rabies and DHP/Parvo vaccines, and tested negative for Heartworms. They are currently on Heartguard+ for Heartworm prevention.
Harry & Sally's adoption fee is $450.00.
Forever Home Canine Rescue offers a 3-week trial period with all our adoptions, just to be sure that the pet is a good match for the adoptive family. The fee is refunded if the adoption does not work out within the trial period. We want to be sure that each of our pets will have the perfect "forever" home!
If you are interested in Harry & Sally, and think they may be your ideal canine companions, please visit our website at foreverhomek9rescue.org for information on our adoption process. To get an application, you can cut and paste this link to our on-line application: http://foreverhomek9rescue.org/adoption-application. You may also download an application from our website, or e-mail us at foreverhomeK9rescue@yahoo.com for additional information or to request an application.