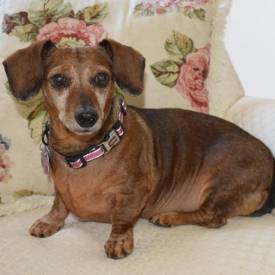 LILY
Adoptable
Small
Spayed/Neutered
Up-to-date with routine shots
housetrained
Meet Lily… a very sweet and friendly, 11-yr-old Dachshund who is searching for her 'forever' home. Lily's owner passed away, and the family decided they did not want to keep Lily. Why? We'll never know, since she's such a perfect little girl.
Lily has never met a stranger… she's friendly with everybody she meets outside of her foster home, and all who comes into her home. She loves children, adults, and gets along with other dogs.
Lily has perfect housemanners… she's well housetrained, and even sleeps contently and quietly in her crate. We're sure she'd prefer to sleep in 'the big bed' and under the covers, since she's a burrower, as are most Dachshunds.
Lily loves to go for rides in the car and walks on a leash. She is happy laying in her doggie bed, or snuggling beside you on the couch. Again… she has wonderful manners and doesn't jump up on the furniture… but she will come over and ask to be picked up. Even though Lily is a little older, she still loves playing with her squeaky toys… and like most Dachshunds, she does her best to destroy them.
Unlike most Dachshunds, Lily is not a big barker. She may become excited at mealtime and give a little bark, but other than that she is a quiet girl.
Since Lily has very short Dachshund legs, we are looking for a home for Lily that does not have a lot of stairs. Stairs also are not good for Dachshunds' backs. A home with a fenced yard would be great, but not necessary, as long as her new family members are willing to take her for a walk a few times a day to get her the exercise she needs.
When we first took Lily in, about a month ago, she was quite overweight, but has since lost down to 14-lbs. She needs to stay on her diet so she can loose a couple more pounds. A family who could give Lily a few brisk walks each day, would be ideal to help her reach her ideal weight.
Lily is spayed, current on her Rabies, DHP/Parvo, and Bordetella vaccines, tested negative for Heartworms, and is on Heartworm and flea prevention. She has also received a dental cleaning.
Lily's adoption fee is $250.00.
If you are interested in Lily and think she may be your ideal canine companion, please visit our website at foreverhomek9rescue.org for information on our adoption process and to download an application, or you may e-mail us at foreverhomeK9rescue@yahoo.com for additional information, or to request an application.
Forever Home Canine Rescue adopts out-of-state, but we never 'ship' or 'transport' our pets. An approved adopter must come to North Carolina to meet their new canine companion and then take him/her back home with them.
We offer a 3-week trial period with all our adoptions, just to be sure that the pet is a good match for the adoptive family. The fee is refunded if the adoption does not work out within the trial period. We want to be sure that each of our pets will have the perfect "forever" home!